Great News: The Volkswagen ID. Buzz Is Coming to the US!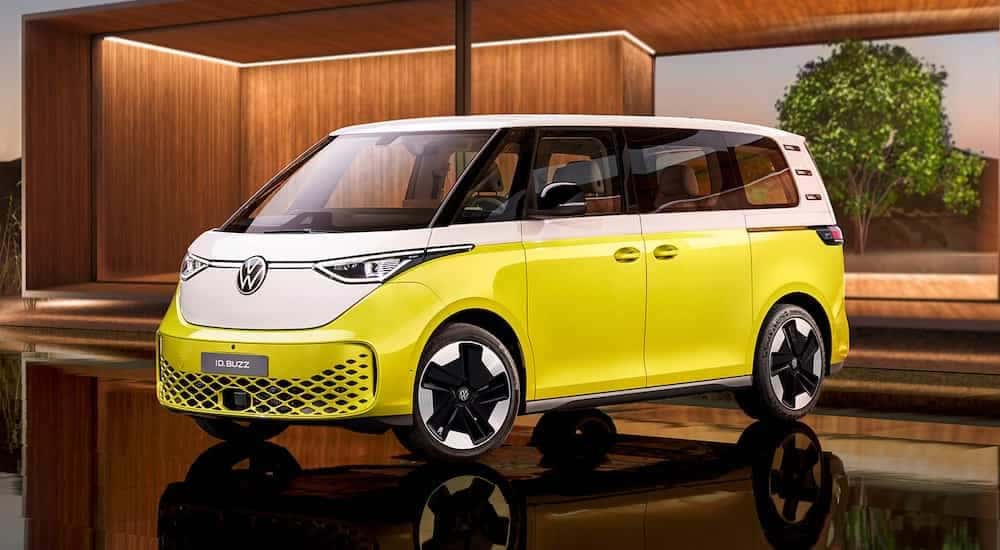 For fans of the classic Volkswagen Microbus, this is a time to rejoice since Volkswagen has confirmed the all-electric ID. Buzz will be coming to our shores. First revealed last year, when VW started talking about their new electric van, they made it very clear that it was only being planned for a European release. While this was disappointing, we were honestly skeptical about how long that would last because of how much excitement there was for this new model, and it looks like we'll be getting our wish. If this enthusiasm makes you wonder, "Is there a Volkswagen dealership near me?" then look no further than Eastside VW. We've been as eager as anyone else, probably more than some, as we've watched the details of this new model emerge.
Recently, Volkswagen not only revealed a lot more information about the ID. Buzz but has also announced that due to the interest being shown here in the US, it would see an American release. That's the good news. The bad news is that we will have to wait longer than the European market to finally get a chance to drive this new beauty. Patience is a virtue (at least that's what we're told), so we'll have to wait for the US release of the VW ID. Buzz till sometime in 2024. Until then, however, we can look at the details that Volkswagen has announced for this impressive new model and get a taste of what we'll eventually get to enjoy.
European Model Details
Before we start getting into some of the exciting information about the all-new VW ID. Buzz, it's important to mention that all of the specs we have right now are for the models that will be released in Europe. At the moment, Volkswagen plans to release the first versions of this new model in Europe this year, with a long-wheelbase model to come later. The initial release will include a standard ID. Buzz with seating for five people, as well as an ID. Buzz Cargo model that has three seats up front and room in the back for commercial use.
This is important to keep in mind because we already know there will be some big differences between what releases this year in Europe and what we'll get in 2024. As we mentioned above, we're getting the long-wheelbase model that will be larger than what Europe gets this year: it will also have seating for up to seven people available due to this larger size. The extra time for the American release means we could also see numerous improvements based on what Volkswagen learns with its European release.
For example, VW has announced details for the battery and motor system for the initial release, but they've already said that more-powerful options will be available after release. This means that we may get multiple options when the ID. Buzz is offered here in the US, or we might only see the more-powerful setup. Until we get all of the specifics for the US model, much of this remains speculation; just keep that in mind as we look at the specs and remember that things will likely change (for the better) before we get to drive it.
Battery and Motor Options
Volkswagen has revealed the initial release of the ID. Buzz will feature a lithium-ion battery that provides 82 kWh of energy. The batteries are being configured under the vehicle's floor, which helps with overall balance and handling while providing as much interior room as possible. As you might expect, the battery will support DC Fast Charging and will be able to go from 5% to 80% charge in just 30 minutes using a DC charger. VW has not provided any information about its range just yet, though we expect it will have at least 200 or 250 miles of range from a full charge, perhaps more for the American version in a couple of years.
In terms of performance, the initial release will feature a single motor on the rear axle that can deliver 201 hp and 229 lb-ft of instant torque. According to Volkswagen, it will be electronically limited to a top speed of 90 mph; again, this is for the European release. VW has confirmed that more options will be available after the release, including a dual-motor all-wheel drive setup, and expects it to be available here in the US. Overall, this is plenty of power and battery performance for this type of vehicle, and we're eagerly waiting to see what the specs look like for the American release.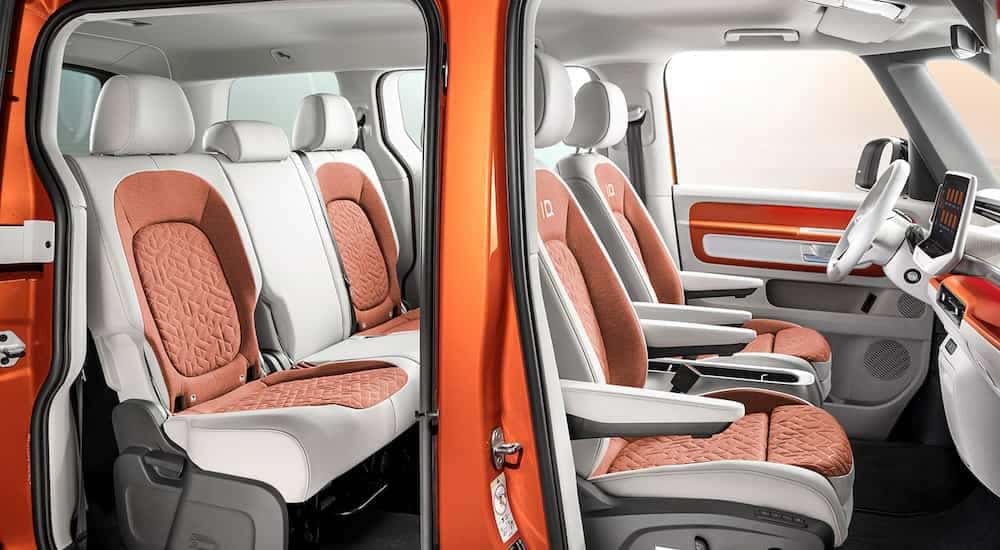 Nostalgia on Four Wheels
The overall design of the all-new VW ID. Buzz is inarguably informed by some serious nostalgia and feels like a perfect blend between cutting-edge style and a classic 1970s aesthetic. We think they've perfectly struck this balance between old and new, with two-tone coloration on the exterior that evokes that ideal level of nostalgia. We should mention that they've drawn more on the original T1 VW bus of the 1950s, but we can't help but see some of the T2 style in there as well. This is fully updated with modern technology, including LED lighting with stylized headlights and a lateral illumination bar between them, with a large VW logo that harkens back to the classic Volkswagen design.
Exquisite Interior Details
Of course, the inside has not been overlooked, and the interior that we've seen looks incredibly inviting. The standard model features separate driver and front-passenger seats (the Cargo version has a front bench seat) with adjustable armrests. Practical features include fold-down tables built into the backs of the front seats for your second-row passengers and an optional movable and removable center console. This console is designed with plenty of storage space and a drawer for a tablet or laptop, plus it can be placed between the front seats or in the middle of the second row.
We'll have to see exactly what the interior looks like when we finally get it, but we expect it to have a lot of the same features. The longer wheelbase will allow for a 2-3-2 seating configuration if you want seven passengers inside or 2-2-2 for more cargo space and comfort. One detail we love is that the lower side of the seats features a stylized silhouette of the vehicle that is completely unnecessary but emblematic of the kind of attention VW has paid to every last inch of this beauty.
Advanced Technology Throughout
As you'd expect, Volkswagen is packing the ID. Buzz with the latest technology features and options, including a 10-inch driver display and 10-inch Infotainment display. They've revealed that a 12-inch Infotainment screen with Navigation will be available – we'll see if this remains the same for the US release or if we get the larger display standard. Beneath the screen, there are numerous buttons and touch sliders, providing tactile controls for things like temperature and climate systems.
In terms of safety technology, we can't say for sure what we'll get here in the US, but Volkswagen has released some details for the initial release. Features like Front Assist and Lane Assist, what we'd call a Forward-Collision Warning and Lane-Departure Warning with Lane-Keeping Assist, will be standard for the European release. Other systems like Adaptive Cruise Control and Park Assist will be optional for the initial release. Again, it's too early to say what will be standard and available when it finally hits the US.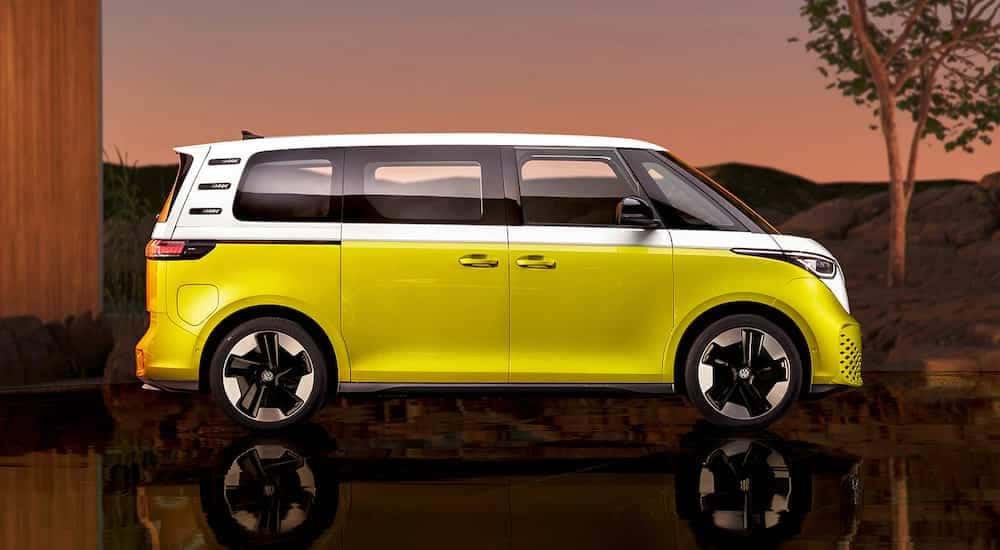 Waiting Is the Hardest Part
Getting a taste of what the VW ID. Buzz will bring to the table certainly makes waiting for its release here in America harder. We'll keep providing you with all the latest details as we get closer to releasing this new microbus in Europe this year and as VW improves and builds upon it after the initial launch. Best of all, we'll get to skip any of those first-year hiccups that cars sometimes have and get the very best version of the ID. Buzz when it releases here in 2024.