The 2022 Volkswagen Taos Appeals to Many Drivers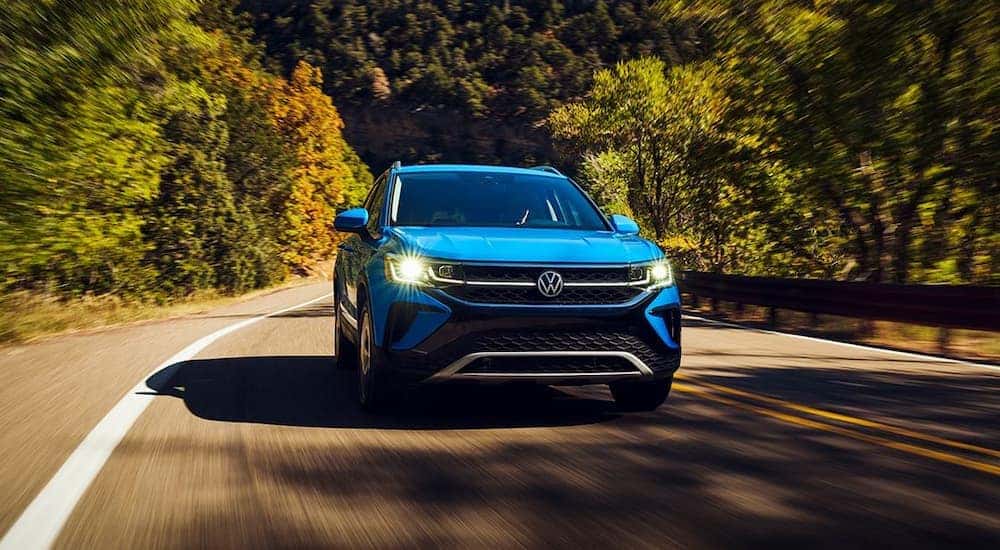 Volkswagen has made a conscious effort to build vehicles that provide top-notch engineering in an affordable package that can appeal to different groups of drivers. This is why if you stop into Eastside Volkswagen, your Akron VW dealership, you are going to find a Volkswagen that is just right for you. The latest model to join the lineup is the 2022 Volkswagen Taos, a subcompact SUV designed for new drivers, commuters, and empty-nesters alike. While this may sound like a pretty diverse group, the folks at Volkswagen have figured out how to build a subcompact SUV that checks off the boxes for each of these sets of drivers. At Eastside Volkswagen, we will show you why your next vehicle should be a 2022 VW Taos from our dealership and why you should make us your Akron VW dealership.
Making a vehicle that can appeal to different groups of drivers with specific wants and needs is no small task. So many drivers move to the beat of different drummers. New drivers are looking for a subcompact SUV that can deliver enough bang for the buck, giving them a vehicle that is affordable but still fun to drive. Commuters have a different need, requiring an SUV that is fuel-efficient and dependable since they are relying on it to get their weekly bread. As for retirees and empty nesters, these folks are downsizing, wanting a vehicle that is easier to drive yet roomy enough on the inside so they can get into and out of it easily. Finally, every driver wants a vehicle that is safe. The 2022 VW Taos fits all of these bills without compromising on any of them.
New Driver's a Highway Star
If you're a new driver, then you are probably hoping to be a Highway Star cruising I-77 like the driver in the Deep Purple classic rock song. You want something that nobody's going to beat, but you also want something you can afford. Fortunately for you, the new 2022 Volkswagen Taos provides you with the best of both worlds.
Volkswagen has equipped each of the three trims on the Taos with a standard 1.5-liter turbocharged I-4 gas engine that provides incredible performance. This engine uses direct fuel injection to produce 158 horsepower and 184 lb-ft of torque. It comes standard with an 8-speed automatic transmission and front-wheel drive, while models with the available all-wheel drive feature a 7-speed dual-clutch automatic transmission. As a result, the 2022 Taos can move you from 0 to 60 miles per hour in a brisk 7.4 seconds. With a top speed of 125 miles per hour, it won't take much to make your subcompact Taos a true Highway Star as you cruise around the great state of Ohio.
With this kind of performance, you are liable to think that the 2022 VW Taos is going to cost you a pretty penny. Yet, the starting MSRP on the base model Taos is only $23,495, making it affordable for practically every new driver, even those on a tight budget.[a] Buying a 2022 VW Taos gives a great subcompact SUV with exceptional engineering and performance at a very reasonable price.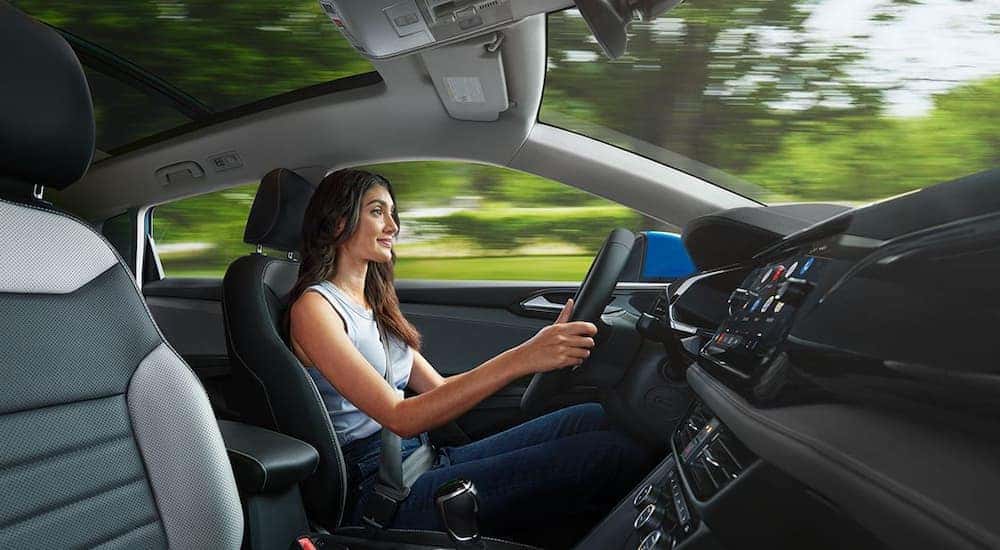 The Taos Is Great if You're Working 9 to 5
If you spend your weekdays commuting to and from Akron, then you know the need for a vehicle you can depend on that gives you exceptional mileage. The 2022 VW Taos checks both of these boxes. With rising gas prices all over Ohio, you are probably seeing your paycheck getting cut into every time you fill up. Fortunately, the 2022 Taos with standard front-wheel drive gives you exceptional fuel economy. This model delivers an impressive EPA-estimate 28 MPG in the city, 36 MPG on the highway, and 31 MPG combined.[b] This will help you cruise past other commuters who are stuck at the pump, watching their hard-earned pay go to fill up their cars more frequently than your Taos.
If you decide you want some added traction on your Taos, you can opt for the available Volkswagen 4Motion all-wheel drive. This includes a 7-speed dual-clutch automatic transmission and an electro-hydraulic center clutch pack, allowing the transmission to send up to fifty percent of engine power to the rear wheels on the Taos. This will give you an equally impressive EPA-estimated fuel economy of 25 MPG in the city, 32 MPG on the highway, and 28 MPG combined.[c] Also, the base model Taos S with all-wheel drive includes the all-weather package, so you will get heated front seats, side mirrors, and windshield-wiper nozzles, which will all come in handy when you have to drive to work on a cold Akron morning.
The 2022 Taos Is Perfect for Just the Two of Us
Many drivers with older kids are looking to downsize as their children move on and they become empty nesters. The days of needing three rows of seats have passed, and their needs have moved to wanting a smaller, more maneuverable vehicle that is easier to park. With a wheelbase of only 105.9 inches of front-wheel drive models, the 2022 VW Taos will be an easy vehicle to park for an older driver. You are getting a comfortable subcompact SUV that seems built for getting around Akron.
However, don't let the small looks of the 2022 Taos fool you. This subcompact SUV sports a very roomy interior. The Taos offers a full 99.5 cubic feet of interior passenger space, ideal for older drivers and passengers who want a little more room to make getting into and out of their vehicle easier on the knees. The model's 6.6 inches of ground clearance will also help in this respect.
Volkswagen has done an exceptional job of apportioning the space on the 2022 Taos. The front row of seats offers a generous 40.1 inches of legroom, while the passengers in the rear row of seats will enjoy 37.9 inches to stretch out their legs. This is why the Taos is one of the rare subcompact SUVs that really has enough room for up to five passengers, making it perfect for the days when you get to take your grandchildren out and spoil them. In addition, the Taos gives you 27.9 cubic feet of trunk space behind its hatchback. This can easily be expanded to 65.9 cubic feet by simply folding down the rear row of seats, giving you plenty of room for all the toys you plan to buy the grandkids.
Volkswagen Does the Safety Dance
Few automakers have built a reputation for passenger safety as strong as Volkswagen has. This continues with the 2022 VW Taos, which includes two standard safety features unique to Volkswagen. The first is the Automatic Post-Collision Braking System. Many of the worst injuries to passengers occur from secondary collisions. This is when vehicles involved in a crash continue to move, colliding with other vehicles in the process. With the Volkswagen Taos and other VW vehicles equipped with this feature, the vehicle will immediately engage the emergency brakes upon deployment of the airbags to help prevent the Taos from becoming involved in a secondary collision. This will help reduce injury to passengers and damage to the Taos and other vehicles.
The second unique standard safety feature on the 2022 Taos is the Intelligent Crash Response System. This does three things to help you and your passengers in the unfortunate event of a collision. First, it turns off the fuel pump on the Taos, which reduces the chance of a post-collision fire. Second, it unlocks all of the doors on the Taos, so you and your passengers can safely exit the vehicle. This will also make it easier for rescuers to be able to enter the Taos to assist you. Finally, the Taos will automatically turn on the hazard lights to alert other vehicles that there has been a crash and to guide potential first responders to your Taos.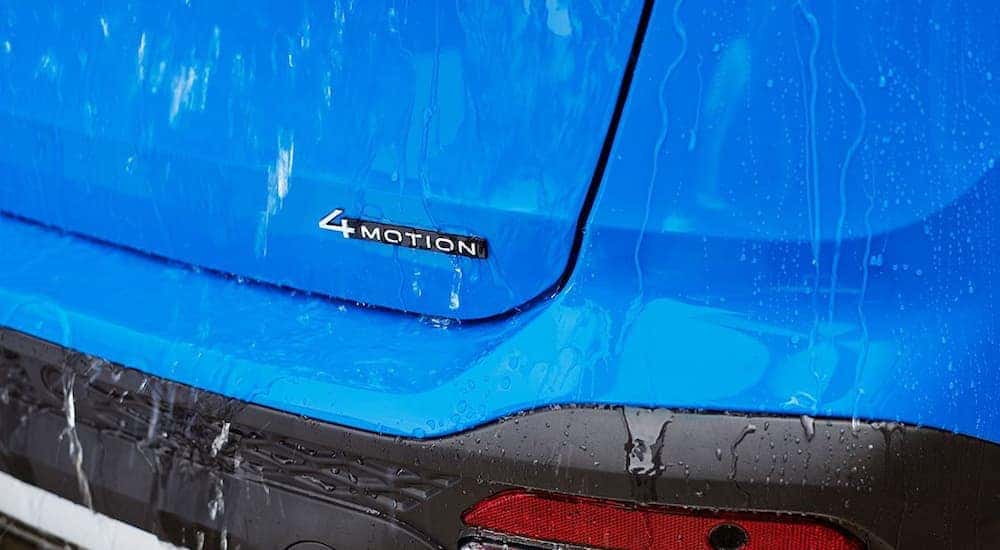 Make Your Next Vehicle a 2022 VW Taos
The 2022 VW Taos has so many things going for it that make it ideal for so many different types of Akron drivers. The affordable price and exceptional performance make the Taos a great first car. The excellent fuel economy and reliability make it perfect for commuters. Finally, the Taos has the roomy passenger compartment that older drivers crave. It also has the attention to passenger safety we all need in our vehicles. No matter your reason, if you are looking for a subcompact SUV, you should make your next one a 2022 Volkswagen Taos.
---
[a] Starting MSRP of $23,495 for a 2022 Volkswagen Taos S 1.5L TSI® with 8-speed automatic transmission. Price excludes transportation, taxes, title, other options, and dealer charges. Dealer sets actual price.
[b] 28 city/36 highway mpg (2022 Taos 1.5L, 8-speed automatic transmission, front-wheel drive). EPA estimates. Your mileage will vary and depends on several factors, including your driving habits and vehicle condition.
[c] 25 city/32 highway mpg (2022 Taos 1.5L, 7-speed automatic transmission, all-wheel drive). EPA estimates. Your mileage will vary and depends on several factors, including your driving habits and vehicle condition.