The Best Volkswagen For an Action-Packed Summer in Cleveland Heights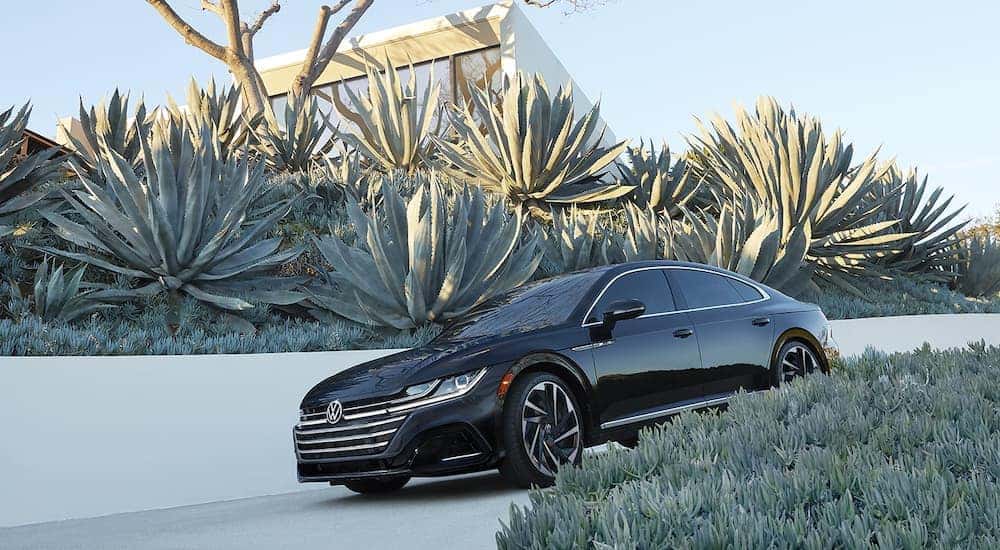 The best Volkswagen to join you on a tour of Northeast Ohio is any Volkswagen. Just ask any Cleveland Heights Volkswagen dealer! That being said, there are a few models that particularly complement life on the North Coast. We have many privileges available to us in Cleveland Heights. The lake is within throwing distance, and spending a weekend in Columbus or Pittsburgh is as simple as packing an overnight bag and hitting the freeway. Whether you're exploring the 135-plus acres of parkland here at home or heading down for a getaway at Cuyahoga, you can see some fantastic sites from Cleveland Heights. But maximizing your experience requires having a vehicle that's as adventurous as you are.
Of course, there's a responsible side to Volkswagen, as well. When you're taking the family to the Community Center or trying to make the trek to Hopkins Airport in less than an hour, you can rely on Volkswagen to get you there safely and swiftly, with the IQ.Drive advanced driving assistance system and a series of well-considered, beautifully engineered powertrains. All of these features and more were on our list for determining the top Volkswagen models for summer in Cleveland Heights, so read on to find out which best fits your lifestyle.
People, Cargo, and More: The 2022 Volkswagen Atlas
You often get picked to drive the carpool gang. You're part of the softball league. You know the route to Antiques and Uniques by heart. You don't mind camping in your car during an impromptu trip to Cuyahoga Valley National Park, as long as there's enough room to stretch out and sleep. You've scored a prime parking spot in Muni Lot.
There are plenty of reasons why you might need a lot of room in your vehicle, and the midsize 2022 Volkswagen Atlas is ready to step up to any of these challenges. With three rows of seats, there's room for seven passengers in this SUV. Alternately, with the rear two rows folded down, you have up to 96.8 cubic feet of cargo room.
Under the hood is your choice of the standard 2.0L turbocharged inline-4, good for 235 horsepower, or a 3.6L V6 that offers 276 horsepower. Front-wheel drive is standard, but all-wheel drive is available across the line. With a towing capacity of up to 5,000 pounds when the V6 engine is chosen and a standard Digital Cockpit, the Atlas has the potential to help drivers out with plenty of tasks.
But maybe seven passengers is far too many for you. Everything about the Atlas sounds great, but there is such a thing as too much room sometimes. Not a problem––Volkswagen has created the Atlas Cross Sport for exactly this reason. Equipped with the same engine options, the Cross Sport offers seating for five passengers, which translates into 77.8 cubic feet of cargo room once the rear seats are folded. Features such as the panoramic sunroof, semi-autonomous Travel Assist driving, and heated seats and steering wheel are still available across the trim levels.
Whether you're more of an Atlas person or more of an Atlas Cross Sport person, this is a Volkswagen that answers the call of adventure.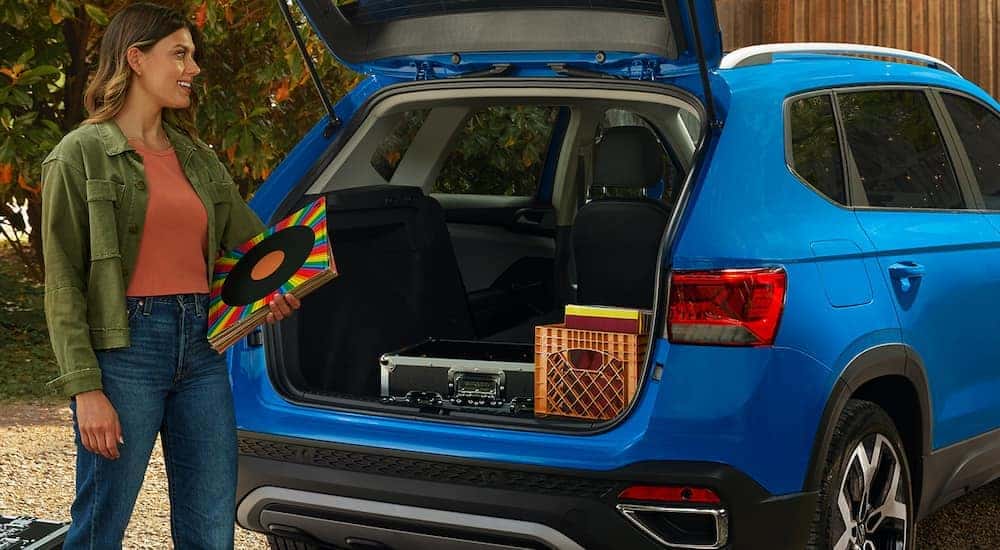 Trendsetting and Safety-Seeking: The 2022 Volkswagen Taos
The Taos is a brand new addition to the Volkswagen lineup in 2022. Don't be phased by the fact that it's the smallest SUV offered by the manufacturer––it still offers up to 65.9 cubic feet of cargo room when the rear seats are folded, or 27.9 cubic feet of space with all seats occupied.
The Taos has been equipped with a 1.5L turbocharged inline-4 engine, 4MOTION traction optimization technology on all-wheel drive models, and a full suite of creature comforts within the cabin. Offered in three trim levels, Volkswagen ensures drivers of each model are treated well. For example, the base S trim with all-wheel drive includes heated seats, side mirrors, and windshield wiper de-icers. The SE trim brings CloudTex upholstery and key safety equipment, such as blind spot monitoring and rear traffic alert.
The top SEL trim includes the full IQ.Drive suite of driver assistance features, including front and rear parking assistance sensors. Inside, you'll enjoy hearing your favorite tunes through a BeatsAudio sound system while you take advantage of heated seats and steering wheel, which can be the best way to deal with Lake Effect winters.
If being prepared for everything the weather can throw at you while still riding in cutting-edge style is your thing, the Taos is here to join you on your various journeys around town and beyond. Smooth enough for the long haul and prepared for all sorts of challenges on the road and in the city, the Taos is a confident compact SUV that's ready to take on the world.
The Freshest of Fresh: The 2022 Volkswagen Tiguan
The Tiguan has been a Volkswagen best-seller for years. The 2018 model marked the start of the model's second generation, and the refreshed 2022 Tiguan hints at the longevity of this stylish vehicle. You can think of the Tiguan as the ultimate compromise: it fits in the compact crossover class but includes an available third row of seating. All-wheel drive versions include 4MOTION technology, along with four main drive modes: On-Road, Snow, Off-Road, and Custom Off-Road.
The list of standard equipment included in all Tiguan models is impressive. Car-Net App-Connect allows drivers to wirelessly connect their mobile devices to the standard 6.5-inch infotainment touchscreen display. Heated front seats are also on board, along with automatic emergency braking, blind spot monitoring, and rear traffic alerts. Equipped with a 2.0L turbocharged inline-4, the Tiguan will keep up with your acceleration demands as you merge onto I-90. When properly equipped, it can even pull loads up to 1,500 pounds.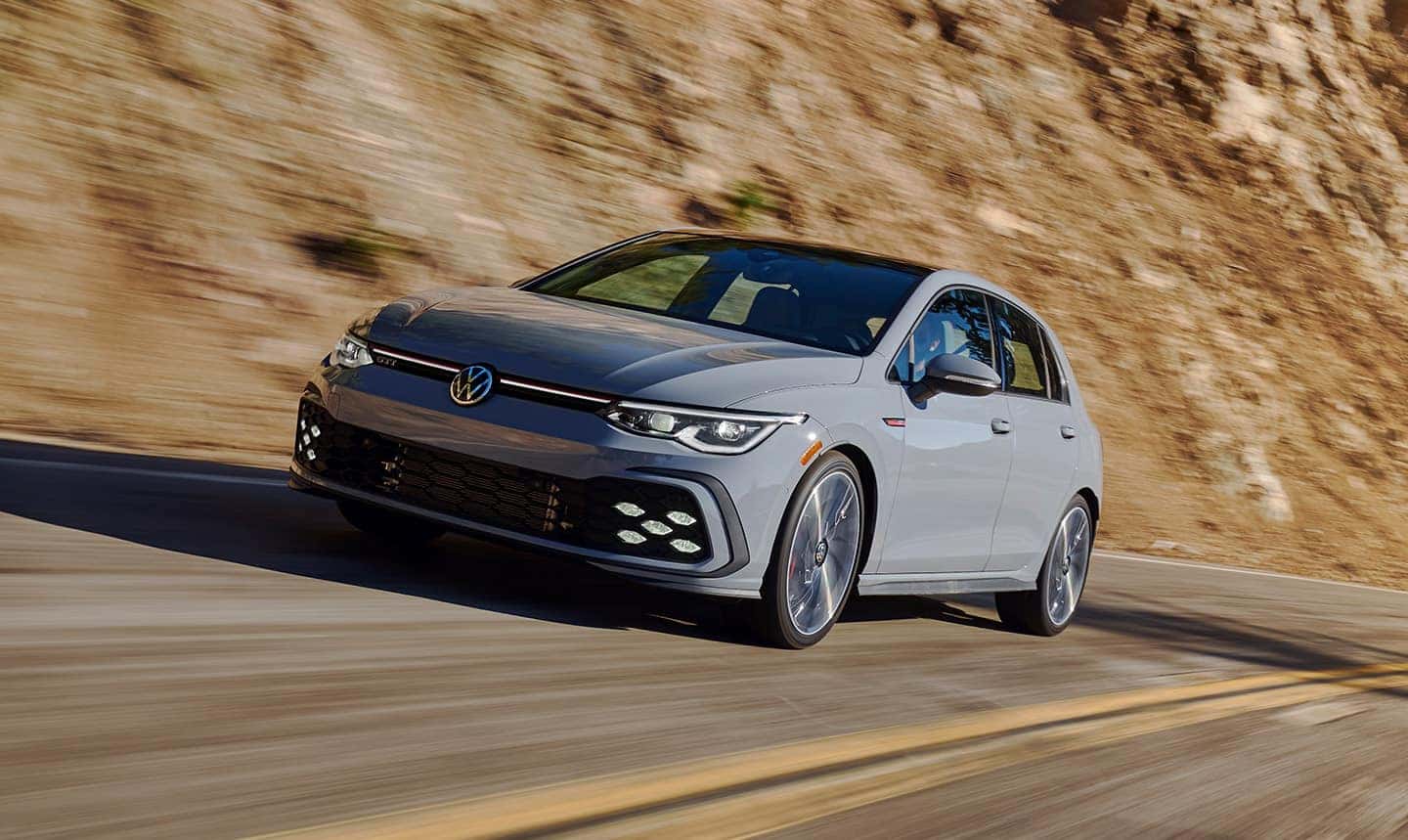 What About the Rest of the VW Lineup?
One thing residents of Cleveland Heights value is diversity: "All Are Welcome" isn't just a tagline, after all. So what about the trusty Golf hatchback or the sleek Jetta? What about the luxurious Arteon? Aren't these all great Volkswagen models?
Of course they are! The Volkswagen lineup provides a wide variety of options for an equally diverse driver population, and SUVs aren't always the answer. However, these four vehicles include one little unifying factor that makes them very helpful for drivers by the lake: Available all-wheel drive. This feature can be a boon to Ohio drivers, especially during the torrential downpours of spring and summer. As the saying goes, "if you don't like the weather in Ohio, wait an hour," and that could either be for the better or for the worse.
The desire to leave the pavement is also high on the list for many drivers. All-wheel drive can make mud, gravel, and festival parking lots much easier to navigate, taking the frustration out of driving through sloppy conditions with the whole family in tow. It should be noted that all Volkswagen vehicles are built with the ability to tackle a variety of road conditions to some degree, though each has its own specialty in the automotive world. While you might not want to go too far off-road with a Golf GTI, for example, you can still have a lot of fun with it on the freeways or even a quick trip down to Mid-Ohio.
Volkswagen has a lot to offer drivers, which means a trip to your Cleveland Heights Volkswagen dealer is a fantastic next step. When you take the opportunity to hop behind the wheel of a variety of models to determine which will best fit your unique lifestyle, you open up a world of potential for adventure!