The Unexpected Volkswagen Wild Card: The 2022 Tiguan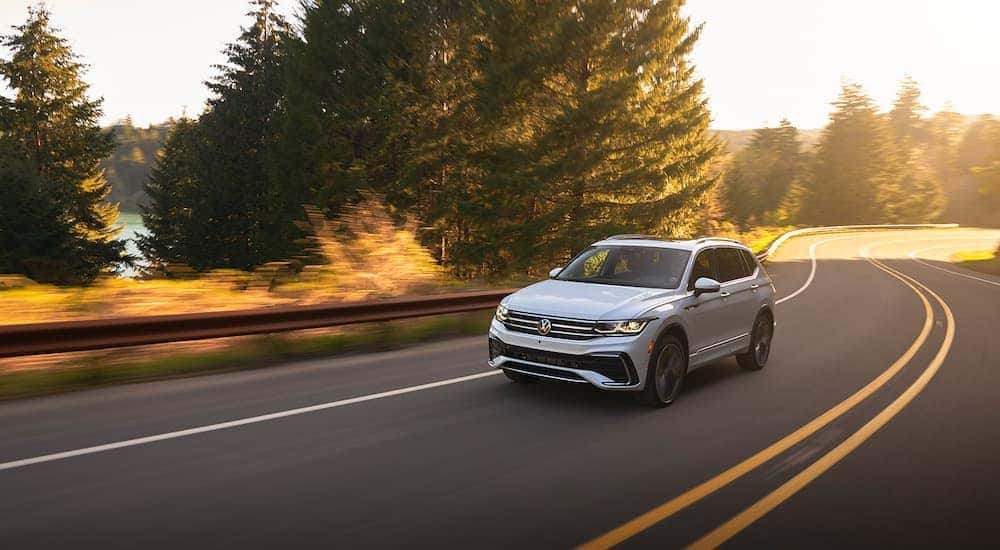 When you think of Volkswagen, does the Beetle immediately come to mind? The Beetle put Volkswagen on a worldwide trajectory as the brand's iconic sedan that lived up to the Volkswagen name as "the people's car." It's unique styling, affordability, and efficiency made it a popular seller for nearly eight decades and forever tied to the VW name. However, any trip to Eastside Volkswagen, your Willoughby Hills Volkswagen dealer, and you'll see that Volkswagen has a lot more to offer than pre-owned Beetles.
You'll find plenty of new Volkswagen models on our lot, but one that's truly full of surprises is the 2022 Tiguan. We think of it as the unexpected wild card because it's vastly underappreciated in the compact SUV segment. That's likely because its rivals are plentiful, making it easy for the Tiguan to get lost in the shuffle. However, after a closer look at everything the 2022 Tiguan has to offer, we think you'll be just as impressed as we are by this award-winning SUV.
It's Newly Restyled
The Tiguan is a best-selling Volkswagen model, a fact that's celebrated with the 2022 refresh. Volkswagen updates the Tiguan from the inside out with premium materials, innovative technology, and a host of new standard features like heated seats that ensure your comfort. Even the steering wheel is updated with touch-sensitive controls. From the outside, the Tiguan offers modern sophistication with its new front grille and bumper, updated wheel designs, and new LED headlamps.
It's Fully Digitized
While the Volkswagen Digital Cockpit isn't a new addition to the Tiguan, Volkswagen makes it a standard feature on the 2022 lineup. The high-resolution display gives you a clear view of vital information behind the steering wheel. The standard display measures 8 inches but can be upgraded to the 10-inch Digital Cockpit Pro that's completely customizable with 21 unique viewing options. These views give you important vehicle data like speed, mileage, and fuel economy, as well as driver-assistance alerts and full-screen navigation so that you always know where you're going.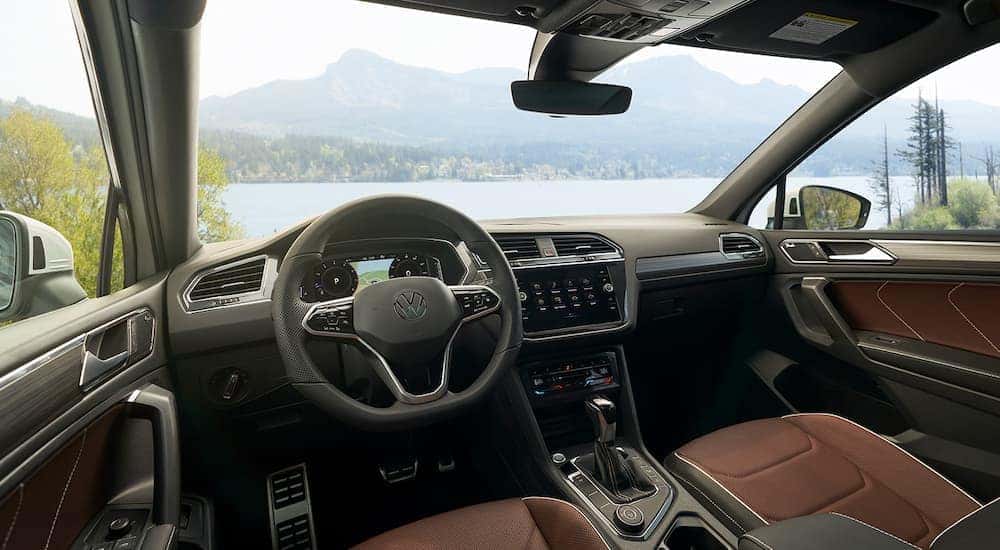 It Keeps You Connected
Volkswagen lives up to its name as "the people's car" by giving its customers exactly what they want and need. In this case, that's easier and effortless connectivity. The 2022 Tiguan delivers with an expansive touchscreen display that's home to the MIB3 infotainment system. Through the system, you can access App-Connect to wirelessly sync your smartphone with the SUV using Apple CarPlay or Android Auto. This gives you access to your favorite apps in a layout that's familiar and intuitive.
It Gives You More Control
Volkswagen gives you more control over the 2022 Tiguan via apps like Volkswagen Car-Net. As an available app for your smartphone, Car-Net allows you to control the Tiguan even when you're not in the driver's seat. The app, which can be connected with Amazon Alexa, enables you to remotely lock or unlock the doors, honk the horn, flash the lights, and start the engine. Car-Net's Family Guardian Alerts are ideal for young drivers since you can set speed and curfew boundaries, adding another layer of safety for your teen driver.
With a host of standard and available features, Car-Net is designed to engineer confidence by keeping you informed and in control of the Tiguan. You can use the app to find parking with Parkopedia and monitor its safety with services like anti-theft alerts, automatic crash notifications, roadside call assist, information assistance, a stolen vehicle locator, and emergency assist. Other features include an available WiFi hotspot as well as DriveView, the latter of which scores your driving and can help you qualify for discounts on auto insurance.
It Engineers Confidence
The 2022 Tiguan is a versatile SUV that's ideal for families because of its spacious cabin, its long list of amenities and conveniences, and its innovative safety and driver-assist features. IQ.DRIVE is designed to give you peace of mind when you're in the driver's seat. The suite equips the SUV with an Active Blind Spot Monitor, Adaptive Cruise Control, Emergency Assist, Front Assist, Lane Assist, Rear Traffic Alert, and Travel Assist. These tools optimize your view, alert you to potential hazards, and actively minimize the potential for collision.
The Active Blind Spot Monitor is like having an extra set of eyes around the SUV since it alerts you when vehicles are in your blind spots to make changing lanes easier. Adaptive Cruise Control replaces traditional cruise control by actively monitoring the flow of traffic and adjusting the cruising speed as needed, while Emergency Assist can bring the Tiguan to a controlled stop if you don't respond to alerts from Travel Assist or Lane Assist. Travel Assist provides steering support as a semi-autonomous driving tool, and Lane Assist helps you keep the Tiguan safely in its lane.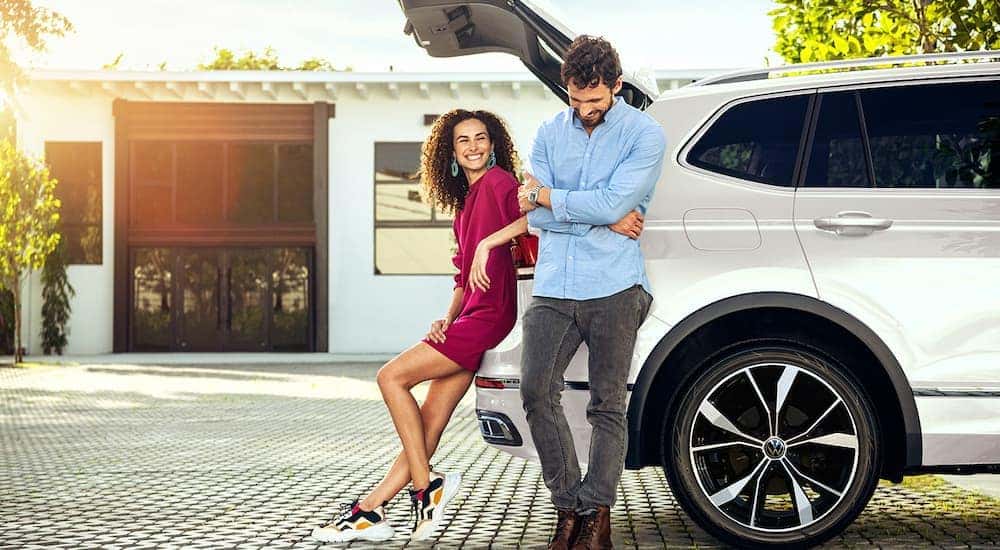 It's Powerful and Efficient
The 2022 Tiguan balances power and capability with efficiency, an impressive feat for an SUV. The Tiguan power comes from its 2.0-liter turbocharged engine that's mated to an 8-speed automatic transmission to deliver 184 horsepower and 221 lb-ft of torque. This power makes the Tiguan responsive, agile, and easy to maneuver without compromising fuel economy, with the SUV getting an EPA-estimated 23 MPG in the city and 30 MPG on the highway.*
It's Capable When Conditions Change
The Volkswagen 4MOTION AWD system is truly impressive and extends the Tiguan versatility and capability. By constantly monitoring for wheel slippage and sending power to the tire or tires that need it most, the AWD system improves handling, traction, and stability as driving conditions change. The system also equips the Tiguan with 4MOTION with Active Control, a suite of four drive modes (Snow, On-Road, Off-Road, and Off-Road Custom) that allow you to tailor how the SUV performs based on the condition at hand.
It's a Volkswagen
The 2022 Tiguan carries the Volkswagen name and extends its reputation for building reliable vehicles that are replete with innovative technology, capable powertrains, and cutting-edge safety features. This makes shopping for a Volkswagen an easy decision, but Volkswagen goes the extra mile to give you confidence in your purchase. That's why every 2022 Tiguan comes with Carefree Coverage. This coverage includes Scheduled Carefree Maintenance for 2 years or 20,000 miles, Roadside Assistance for 3 years or 36,000 miles, a New Vehicle Limited Warranty for 4 years or 50,000 miles, and Car-Net Remote Access for 5 years.
It's Your Turn
It feels like the Tiguan is often overlooked in the compact SUV segment, but that's not for lack of trying and, instead, is likely because the segment is overrun with options. The Tiguan, despite its attractiveness, can't help but get lost in the shuffle of its fellow heavy-hitting contenders. As your Willoughby Hills Volkswagen dealer, we're here to change that, and hopefully, we've done our job by showing you everything the 2022 Tiguan has to offer. Its spaciousness adds to its practicality, while its powerful 2.0-liter turbocharged engine ensures its size doesn't make it lethargic or underpowered. This makes the Tiguan not only fun to drive, responsive, and agile, but it also makes it incredibly efficient, and that puts more money in your wallet. Who doesn't love that?
Now, it's your turn. Will you discover everything the Tiguan has to offer and why it's a best-selling SUV? We hope the answer to that is an excited and resounding, "Yes!" If you are ready to try the Tiguan for yourself, visit Eastside Volkswagen for a test drive.
---
*Based on EPA mileage ratings. Use for comparison purposes only. Mileage will depend on model year, trim, and condition of the vehicle. Your mileage will also vary depending on how you drive and maintain your vehicle, driving conditions and other factors.