Top Questions About the Golf GTI, Answered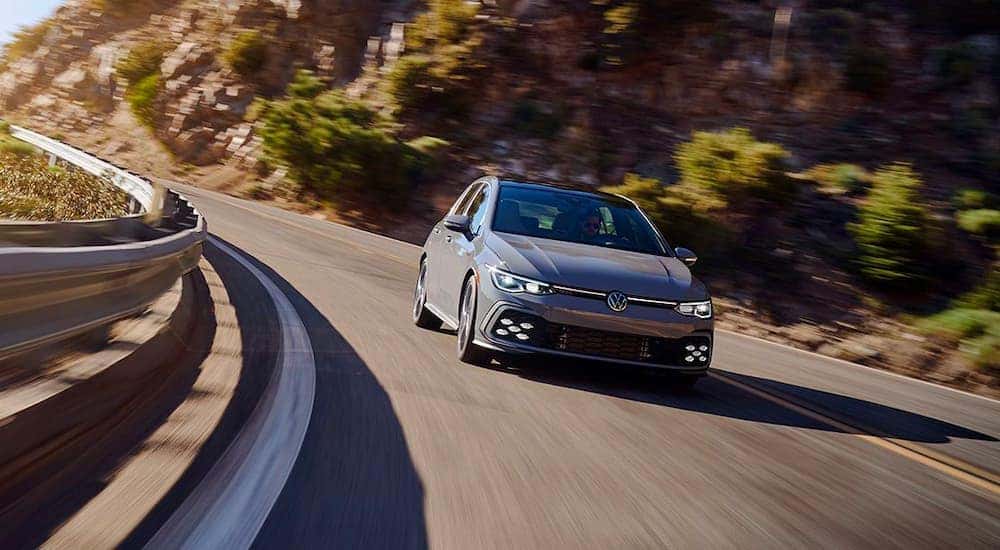 Few sedans can deliver an exceptionally exhilarating experience quite like the Volkswagen Golf GTI, known simply to some as just the GTI. Not only does this thrilling machine offer compelling driving dynamics and a ferocity like no other, but it's also no wonder you've searched for the Volkswagen dealer near you to find the latest info on the Golf GTI model. When it comes to your next vehicle, if you're looking for more excitement, the GTI will surely deliver, so what is a GTI? Let's dive into some of the most frequently asked questions about this breathtaking vehicle and what it means to flash the GTI badge of honor.
Q. What Does GTI Stand For?
A. The GTI badge stands for Grand Touring Injection and is generally reserved for more powerful vehicles capable of delivering an impactful ride. The GTI namesake typically differentiates higher-performing models from standard models and focuses on ride quality, centered around providing the ultimate driving experience. In the Golf GTI's case, this spirited traveler is powered by a 2.0L turbocharged direct-injection engine, which provides it with exciting 241 horsepower to amplify its appeal on the road. Grand touring vehicles are made to travel, offering all on board a comfortable yet thrilling experience, no matter what the journey entails. With the Golf GTI's impeccable handling, smooth ride, and unharnessed agility, rest assured that an enjoyable ride awaits inside this top performer.
Q. What's New With the Golf GTI for 2022?
A. This year is a big year for the Golf GTI, as it commemorates its eighth generation, showcasing many new and improved features throughout. New style inside and out includes modern LED headlights, plaid upholstery, and more enhanced elements within, as well as a brand-new dashboard design and upgraded tech. The GTI's capabilities have also improved for 2022, with its powerful 2.0L turbo engine now offering increased acceleration and strength, allowing it to achieve more during any journey. Creature comforts can also be found inside, like cozy appointments, touch-sensitive controls on its three-spoke steering wheel, and impressive space throughout. All in all, the newest generation of this famous model proves to be even more remarkable than the last.
Q. Is the GTI Front-Wheel Drive or All-Wheel Drive?
A. Driving the Golf GTI means that you're in for a lively ride, whether you're cruising down the highway or navigating busy city streets. This traveler's mission is to make your journey better, and it does so with a high-performing engine and loads of undeniably exciting features within. This sporty sedan is only available in front-wheel drive, which comes with a host of benefits, making for an all-around better ride. Front-wheel drive vehicles prioritize efficiency, not only at the pump but also with the space inside the vehicle as well. Front-wheel drive vehicles showcase transverse engines, which are located closer to the drive axle for more efficiency when it comes to room inside the vehicle, which makes the Golf GTI a top pick for many drivers concerned with space, as well as performance.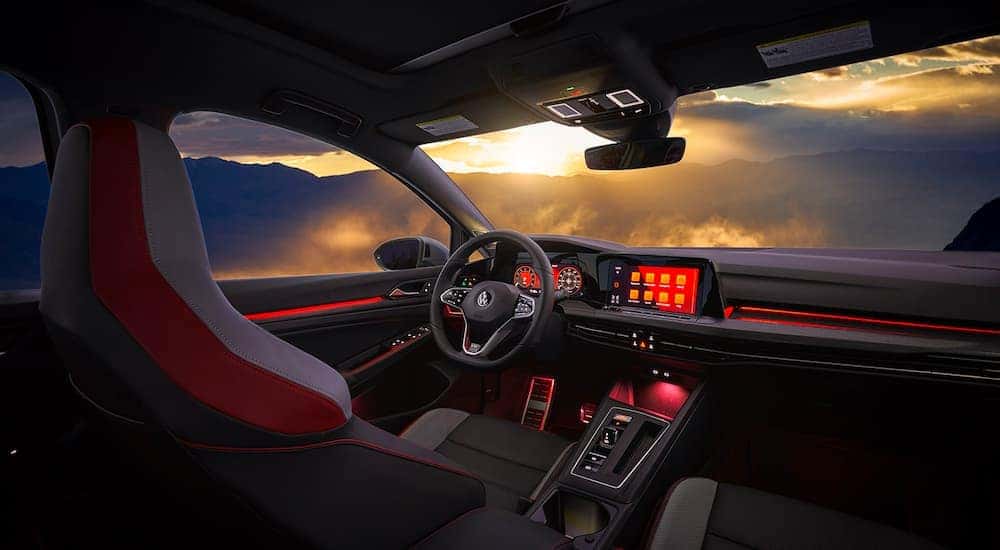 Q. Is the GTI Considered a Sports Car?
A. Although there are many factors that define a sports car, one of the biggest factors is the overall quality of the ride. The Golf GTI showcases outstanding speed and handling. Able to jet off from 0-60 mph in 5.1 seconds, the Volkswagen Golf GTI has been named Forbes Magazine's Sports Car of the Year, further proving its capabilities on any type of roadway.* The GTI's available six-speed manual transmission allows for even more control during the ride, and with a Driving Mode Selection at your fingertips, maximizing its potential on any journey is effortless. Its VAQ limited-slip front differential lock system transfers max torque to its front wheels to allow for enhanced handling and smoothness during any drive, making it not only a fun car to drive, but also a safe one, perfect for everyday drivers, sports car enthusiasts, and others.
Q. Is the GTI Reliable?
A. Volkswagen designs vehicles that are among the best on the road, not only when it comes to capabilities and performance, but also with dependability. Driving a Volkswagen means that you'll be able to have increased assurance during your travels, and with the Golf GTI's IQ.DRIVE features, your ride just got better. From Lane Assist to Adaptive Cruise Control, the Golf GTI seamlessly provides you with the ride you deserve. Pair this with the legendary VW reputation, and you've got a vehicle that won't let you down, no matter what. Drivers want to be able to trust in their vehicle to provide them with a safe, compelling, and comfortable ride, and the Golf GTI showcases this with absolute perfection.
Q. What Is the Best GTI Trim?
A. The 2022 Golf GTI is available in a number of trim levels to appeal to virtually any type of driver, and from sports car fanatics to family travelers, anyone can find the ultimate GTI trim for them. Many will be drawn to its alluring Autobahn trim, which features enhancements not found elsewhere, including an innovative Head-Up Display, elegant leather seating materials, heated seats, a 12-way power-adjustable driver's seat, and other lavish features. Choose the mid-level SE for a power-tilting/sliding panoramic sunroof, as well as a Harmon Kardon premium audio system, and other ingenious tech. Even its base model, the S, is superb, offering plaid cloth seating elements, loads of tech, and 18-inch aluminum-alloy wheels to match its take-charge attitude. In short, every trim offered in the Golf GTI lineup is exceptional, so the choice is entirely yours.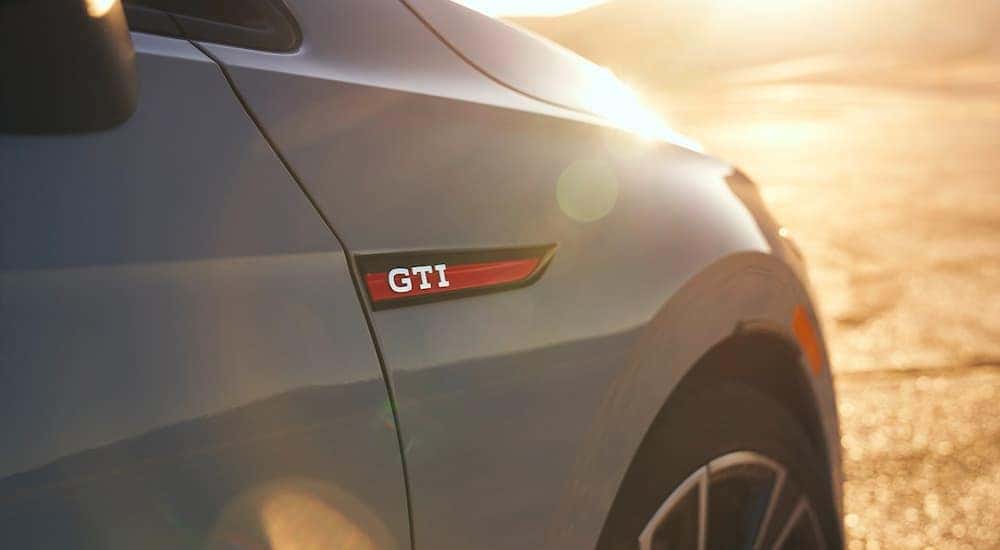 Q. Why Buy a Golf GTI?
A. What makes the Golf GTI so special and a cut above the rest? Its enhanced driving abilities, intense performance, and undeniable style set this lively traveler apart from its competition. Not only is it extremely enjoyable to drive, its newest generation features a lighter design, which allows it to reach faster speeds in seconds, and with a nice variety of trims available to appeal to any budget, you're able to harness the excitement of a sports car without the sports car price tag. Timeless yet contemporary, powerful yet practical, the Golf GTI offers everything to its drivers, which makes it a solid choice when you're searching for your next outstanding traveler.
The World of GTI
The GTI is more than just a badge on a car, it's a lifestyle, and when you're looking to reach maximum speeds, heightened thrills, and unmatched capabilities, the Golf GTI will surely get you there. At Eastside Volkswagen, we know what you're looking for in a vehicle, and perhaps no other vehicle on the road can meet your demands quite like a Volkswagen. Add more comfort to your drive into work, enjoy more excitement during your everyday travels, and drive with the confidence you need in knowing that your vehicle will consistently deliver a reliable ride for miles. There's a reason why more drivers are choosing Volkswagens for their journeys, and it's due in part to the unbelievable features and top-of-the-line performance you're able to take advantage of in each and every vehicle in the VW inventory. So, if you're searching for a powerful, comfortable, and inspiring ride, the Golf GTI is a top pick, capable of propelling your ride to new levels, all the while offering must-have practicality that can only be found in a Volkswagen.
---
*Volkswagen Golf GTI won the Forbes Wheels Sports Car of the Year. For more information, visit Forbes Wheel www.forbes.com. Forbes Wheels is a registered trademark of Forbes Media LLC.