Want a Volkswagen? Three VW Models for Cleveland Heights Drivers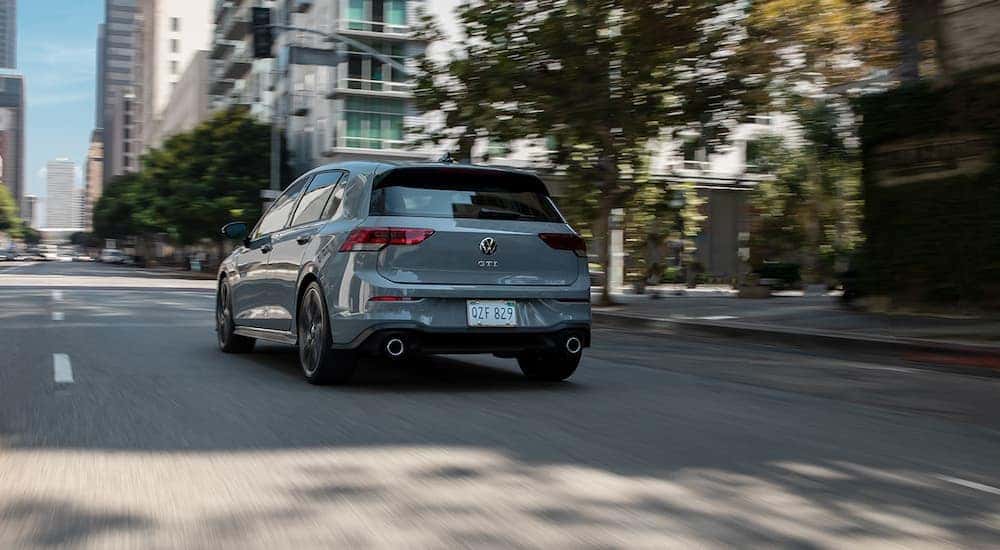 Have you ever heard about the fine craftsmanship that goes into every Volkswagen vehicle? Whether you have or not, you're here because you're looking for a Cleveland Heights car dealership, and you want a vehicle you can depend on. Volkswagen vehicles are the pinnacle of German engineering, and there's no better way to appreciate the wide range of available automobiles than to take a step back and evaluate your options. In Cleveland Heights, we're used to city driving, so to pick the best Volkswagen vehicle for yourself, you should consider things such as fuel economy, among others. If you're interested in a sedan, SUV, or EV, you'll find all three on our lot, and there's at least one of each class we can easily recommend to the tens of thousands of drivers in Cleveland Heights.
The Volkswagen vehicles we've chosen as our recommendations include the Jetta, Golf GTI, and the newer ID.4 Electric Vehicle, the brand's first electric vehicle. The Jetta is a fuel-efficient sedan with a low starting price and numerous luxury features, making it an easy recommendation to both new and veteran drivers alike. The Golf GTI hatch will give you admirable performance, advanced tech features, and a fuel-efficient powertrain that can be paired with a manual transmission. Lastly, the ID.4 Electric Vehicle is an all-electric SUV that can outperform its gasoline-powered siblings, and it's a good stepping stone into the world of EVs.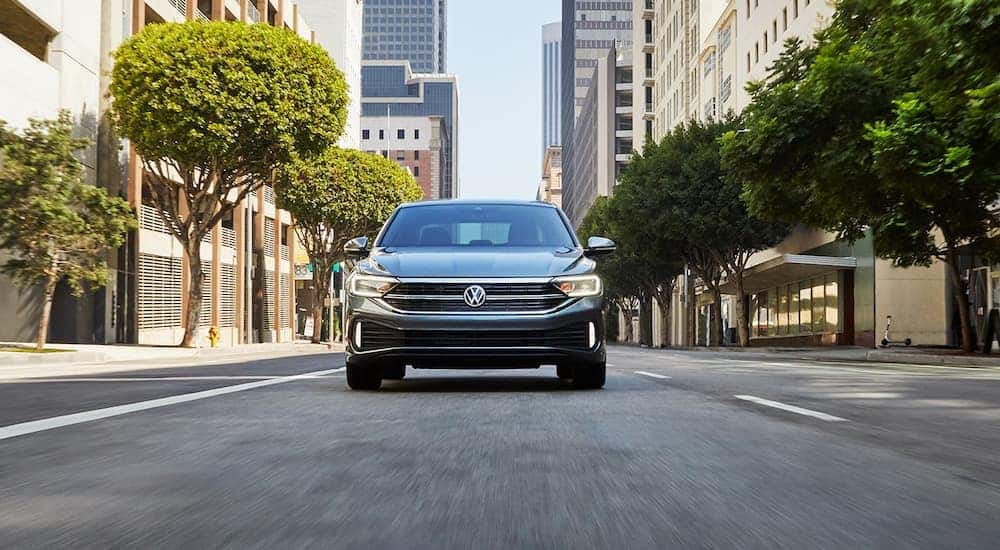 #1 Jetta
If you're a commuter, or you're usually one to travel alone, the Jetta is a phenomenal sedan that saves you a significant amount of money against some competitors, with a price tag suitable for a majority of drivers looking for a new vehicle. Of course, traveling around Cleveland can get expensive if you're driving a fuel-guzzling vehicle. Fortunately, Volkswagen vehicles are generally fuel-efficient, something we consider one of the primary benefits of purchasing one. Generally speaking, the Jetta is one of the most fuel-efficient sedans that you can purchase, especially for the price.
The exceptional fuel efficiency of the Jetta is thanks in part to its standard turbocharged 1.5L I-4 engine you'll find on each of the four trims. What will likely be a pleasant surprise to enthusiasts, the Jetta can be paired with either a 6-speed manual or 8-speed automatic transmission. Not only that, but the turbocharged engine earns EPA-estimated ratings of 31 MPG in the city and 41 MPG on the highway with the automatic transmission, and 29 MPG in the city and 43 MPG on the highway when you stick with the manual transmission.[a] With this kind of fuel efficiency, you can bring your Jetta to all stretches of Ohio, including a two-hour trip down to Columbus, with ease. You can even expect a trip to the motor city, Detroit, to go off without a hitch, and you'll constantly be saving money in the process.
#2 Golf GTI
The Golf GTI is an easy SUV to recommend to Cleveland Heights drivers because of its size and capability. Your 2022 Golf GTI hatch will seat a maximum of five passengers, but everyone will have far more space than they would in a sedan that also seats five. Let's say the whole family is aboard for a trip to Pittsburgh, PA, for example. This drive is over two hours long via Route I-76, but the Golf GTI will provide a comfortable experience for the entire trip, and with all five passengers on board, you'll have a generous 19.9 cubic feet of available cargo space. If you're traveling alone and you're transporting a larger than usual piece of cargo, then folding down the back row of seats reveals an additional 14.6 cubic feet of space, bringing the maximum to 34.5 cubic feet.
For many special occasions, the spaciousness of the Golf GTI is much appreciated. The versatility of the hatch means you can partake in more fun activities with the family. For example, if you're excited about the Cleveland Browns' upcoming football season, then the Golf GTI is the perfect hatch to bring the family down to FirstEnergy Stadium to enjoy a game.
Like other Volkswagen vehicles, such as the Jetta, the Golf GTI can be fitted with a 6-speed manual transmission. Alternatively, drivers can swap this out for a 7-speed dual-clutch automatic transmission, meaning it's a win-win for any driver. The engine inside of the Golf GTI is a turbocharged 2.0L I-4 that creates 241 hp and 273 lb-ft of torque, so performance won't be an issue.
SUVs such as the Golf GTI are phenomenal in a few ways, but one of the most notable benefits is the IQ.DRIVE safety suite you can integrate into your vehicle. General build quality is also phenomenal, and it helps complement a trove of useful features. From collision detection to emergency braking, blind spot monitors, and more, the Golf GTI is designed to keep you and your family safe at all times.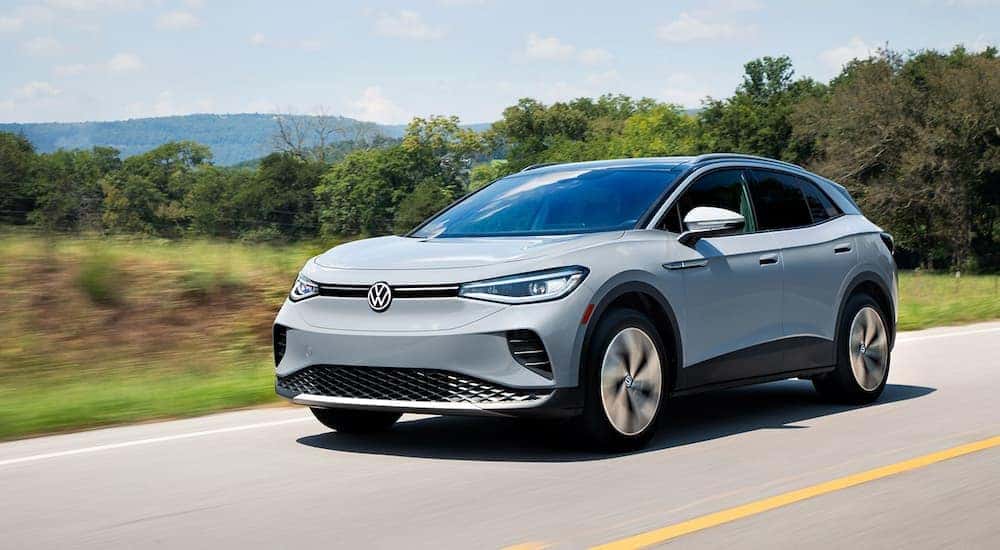 #3 ID.4 Electric Vehicle
The ID.4 Electric Vehicle (EV) is an interesting vehicle with a promising future. As an EV that didn't launch until 2020, Volkswagen was a relative latecomer to the trend of Electric Vehicles. Nowadays, it's not a niche to own an electric vehicle, and manufacturers such as Volkswagen throwing their hat in the ring is all but expected. The results, however, were phenomenal, and the ID.4 Electric Vehicle is quickly becoming a force to be reckoned with in the EV side of the automotive industry.
As an SUV, the ID.4 EV retains a vast amount of cargo space, offering a significant amount more than the Golf GTI, for example. With five passengers aboard, the ID.4 EV retains an impressive 30.3 cubic feet of cargo space, and lowering down the back row of seats more than doubles this to 64.2 cubic feet. Rest assured, the ID.4 EV is a wonderful vehicle to purchase for all sorts of different reasons. From daily commuting to traveling with the whole family, the ID.4 EV is a jack of all trades.
A large portion of the success of the ID.4 EV is, you guessed it, the electric powertrain. Instead of using traditional engines, drivers will get an 82 kWh battery paired with electric motors, and you can opt for either an RWD or AWD configuration. Those who believe EVs still aren't powerful are sadly mistaken, and the ID.4 EV is a perfect example. The base powertrain for the ID.4 EV gives drivers a respectable 201 hp and 229 lb-ft of torque, and the EPA estimates you can travel up to 275 miles on a full charge with RWD.[b] Should you upgrade to the more powerful choice, however, your ID.4 EV will output a whopping 295 hp and 339 lb-ft of torque, which is a fantastic showing for any electric vehicle. This powertrain expectedly gets less mileage, but it doesn't stray too much from the base offering, with an EPA-estimated 262 miles available on a single charge.[c]
Charging your EV can be done in one of two ways. You can install a Level 2 charger for faster home charging, stop at a DC Fast Charge station, or simply utilize the regular Level 1 charger, which is the slowest of the three methods. Charging at home isn't the only option, however, as over 45,000 charging stations have been made available across the United States in a short period, and more are constantly being added. This is a great option to check out if you are ready to take on an electric vehicle rather than a gas one.
---
[a] 29 city/43 highway mpg (2022 Jetta 1.5L, 6-speed manual transmission). EPA estimates. Your mileage will vary and depends on several factors, including your driving habits and vehicle condition.
[b] 2022 ID.4 Pro EPA estimated total range is 275 miles. Actual mileage and range will vary and depend on several factors including driving and charging habits, accessory use, temperature and topography, battery age, load, and vehicle condition. Battery capacity decreases with time and use. See owner's manual for details.
[c] 2022 ID.4 S EPA estimated total range is 262 miles. Actual mileage and range will vary and depend on several factors including driving and charging habits, accessory use, temperature and topography, battery age, load, and vehicle condition. Battery capacity decreases with time and use. See owner's manual for details.